I suppose I should introduce you to someone very special to me.
He's about four and a half feet tall. He loves tacos and spaghetti. He loves to ride his bike around in gym class. And… he has cerebral palsy.
When I moved on a whim after I graduated college, I took a job as a paraprofessional. For those of you unfamiliar to the term, a paraprofessional works with students that need extra help with their school work. These students usually have an IEP or a physical disability. That's where my young friend comes in.
One of my jobs was to work with him. I helped him walk from class to class with his walker or cane. I helped him with homework that he couldn't physically do by himself. I spent hours reading with him and teaching him language arts at a level that fit his needs.
Every day I would rotate case loads of different students for every class hour. Some hours I'd have one child to focus my efforts on. Some hours I'd have ten. I would come home mentally and physically drained from the fight to encourage students to learn and succeed in school. No matter the decade, students still don't want to do their work.
One of my toughest challenges was to encourage my little friend. He loved to question everything with a simple "Why?" And when I gave reasons for each and every "Why?" he would get angry with me for beating him at his game. He'd always say in a huff, "I want to sell (whatever he was frustrated with) to Africa!"
Among other things, I found he didn't believe in himself. He didn't want to do work because he started believing the lie that he couldn't do things just as well as any other little boy. It pained me to push him to do work when he felt so inadequate next to his peers. But I knew that with every push I gave him, he was learning and becoming just as independent as other kids.
I quickly learned little ways to encourage him. With each painstaking step we would take walking to a class, I would come up with little games for him. We'd play "I Spy" or I'd ask him if we should do "our 20 big steps" while I counted off in a silly high-pitched voice. One of my greatest joys was to see how the other children treated him. There were many times when kids would stop by us and say "Good job buddy!" or "You can do it!"
Every day, we'd encounter a different struggle and every day I'd try my best to conquer that challenge. But, after work. I'd wonder if I had done any good at all.That is until one day as I walked my friend to his next class, I forgot to do my silly counting. He stopped and refused to move. He looked me in the eyes and said "Count!" I was shocked that he remembered and even liked my childish game. I happily resumed my funny game with him and thanked God for this small victory. Maybe I did make a difference.
One day, I got a phone call. Someone had finally read my resume and wanted to hire me in a full-time position. I was honored to accept but, something pulled on my heartstrings. I knew I would have to say goodbye to my dear little friend.
I slowly tried to prepare him for my leave. I told him that he'd have to be a good boy for whoever was to take my place. I promised him that the next para would be a wonderful person.
On my last day at the school, God truly blessed me. As we worked on our last language arts lesson together, he suddenly stopped and grabbed my hand. He looked into my eyes and said, "Don't worry, someone will take care of me." That was all I needed to know. Someone was going to take care of him, someone was going to walk him to his classes and he was going to be alright.
I thank God for the blessing of knowing this incredible young man. Hebrews 12:11 reminds me of my experiences and how God is using them to strengthen me and my friend: "No discipline seems pleasant at the time, but painful. Later on, however, it produces a harvest of righteousness and peace for those who have been trained by it."
I have one last insight to share. I will forever love the Skit Guys. Here's a clip that might give you a little bit of insight on how my friend has made an impact on me.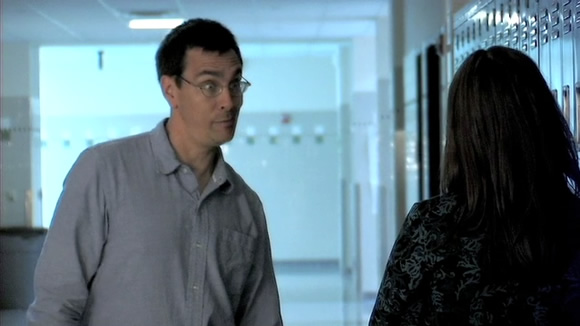 Have you ever experienced God's discipline when you couldn't understand your situation?